Vision
The Center for Business, Government & Society (CBGS) creates and develops awareness, knowledge, skills, wisdom, and leadership on issues at the intersection of business, government and society. Focus areas are inherently dynamic, responsive to the challenges and opportunities leaders are facing. Since inception, these have included ethics, sustainability, social entrepreneurship, impact investing, corporate responsibility, public-private-social sector partnerships, community engagement, and public and social sector leadership.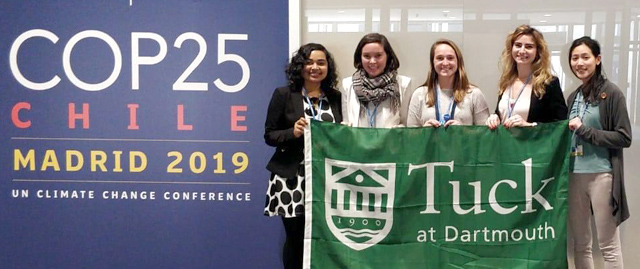 What are Centers at Tuck?
The six Centers at Tuck forge pathways of learning and application for our MBA students. Students are encouraged to partake in any of Tuck's individual or cross-Center opportunities to truly customize their learning and experience.
Program Spotlight
The Center's Non-Profit Board Fellows program brings together Tuck students with local nonprofits. Second-year students participate as non-voting board members and become involved in the local community, applying their business skills, and learning directly about organizational governance.
Find Us on Slack
For the latest updates and news from CBGS, current Tuck students are encouraged to find us on Slack.