Slaughter & Rees Report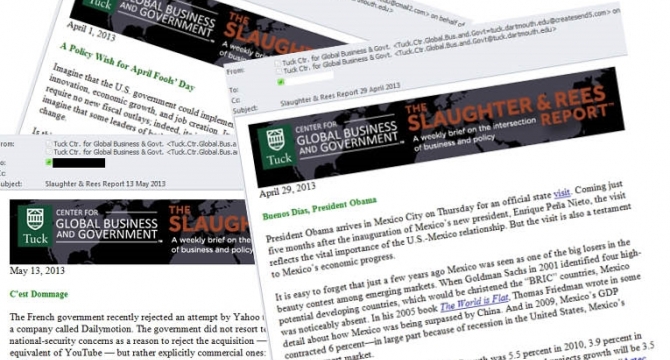 This free, weekly email offers expert analysis and insights into global economic news delivered to your inbox early each Monday morning. Subscribe at right with, "Keep in Touch."
May 18, 2015
Slaughter & Rees Report: America's Startup City, Thanks to Tony Hsieh
Cities have been described as the world's "greatest invention," as the proximity of people to each other spurs innovation and expanded economic opportunity. Today, 54 percent of the world's population resides in urban areas, according to the United Nations. Sometimes people flee big cities, however, when economic or social pressures build. This has happened in several U.S. cities over the past couple generations—perhaps most dramatically in Detroit, as we have written about here. When this happens, what can be done to revive them? Read more.
Meet the Authors
Matt Slaughter is the Signal Companies' Professor at the Tuck School of Business, the faculty director of Tuck's Center for Global Business and Government, and the associate dean for faculty. He is also currently a Research Associate at the NBER; an adjunct Senior Fellow at the Council on Foreign Relations; a member of the Congressional Budget Office's Panel of Economic Advisers; a member of the U.S. State Department's Advisory Committee on International Economic Policy; and from 2005-2007, he served as a Member on the Council of Economic Advisers in the Executive Office of the President.
Matthew Rees is the founder of Geonomica, a consulting firm that has worked with clients across a number of industries, and a senior fellow at Tuck's Center for Global Business and Government. He is the founder of FT Newsmine, a weekly brief of financial market facts and figures produced in collaboration with the Financial Times, as well as The Geonomica Brief, an independent publication with a similar focus. A former journalist, Rees has written for The Wall Street Journal and The Economist. He also has extensive government experience, serving as a speechwriter for President George W. Bush; former National Security Adviser Condoleezza Rice; and U.S. Trade Representative Robert Zoellick.