Getting Ready for the 2014 China Learning Expedition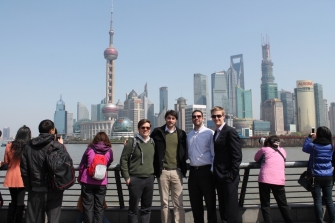 November 6, 2013 -- Guest post by CGBG Program Manager Jonathan Peyster -- (pictured above are Tuck students in Shanghai during the 2013 Learning Expedition) --
I'm very excited to accompany Professor Golder on this Learning Expedition and to have the opportunity to introduce you to one of the world's most dynamic countries. I speak Chinese and know China very well having lived there for over three years, first as a student and then as a manager of a start-up company. Every time I go back I learn something new, and I'm confident that this LE will provide everyone involved with a deeper understanding of both how China got to where it is now and where it might go in the future. An understanding of the economic, political, and cultural conditions in China will serve you well, no matter what region or industry your career takes you. Even if you've been to China before, this Learning Expedition will help you develop the kind of complete perspective on China needed to do business there in the 21st century.
During this trip, we will visit three regions:
Beijing
While Beijing is mostly known as the cultural and political capital of China, it is also a key business center. Doing business in a centrally controlled and highly planned economy like China's, without consideration of government policy, is unthinkable, so large companies need a significant presence there to handle all of the government relations work. Additionally, Beijing has increasingly become a major center for the high tech industry due to the number of graduates from Beijing's many top universities who are looking to take advantage of the booming economy. During this Learning Expedition, we plan on visiting one of Beijing's major tech companies (i.e. Lenovo) and learning about the push to bring innovation to the forefront of China's economic development.
Xi'an
One of China's ancient capitals, Xi'an is a major cultural center that has also become a target for economic modernization over the past two decades. Xi'an has managed to do what most cities in China have not in that it has preserved much of its traditional architecture while still developing rapidly. Xi'an's GDP growth rate over the past couple of decades has averaged close to 15 percent, which actually far outpaces that of China as a whole and even well known "boom towns" like Shanghai. All of this makes Xi'an an interesting study in contrasts for us to investigate during this Learning Expedition.
Shanghai/Suzhou
Shanghai is the poster child for China's rapid development and rightfully so. While the rest of the country is doing its best to catch up, the greater Shanghai region is still China's indisputable economic capital and a center of substantial FDI and international trade. Visits to companies like Hines, Gensler, and Hollingsworth & Vose will give you a sense of both how Shanghai has gotten to where it is now and what challenges it may face as it strives to continue its rapid development in the future.
Tim Koranda

Jan 29, 2014 at 12:53 am

The stock market crashed last week on perceptions that China's economy was in the doldrums. (The manufacturing index was down slightly on account of the Chinese New Year,) I can remember the days when China was the last place on earth to look for a leading or lagging indicator. When I first visited the country only bicycles plied the roads and people ate things like civet cats because there wasn't any meat. When I first studied Chinese all the textbooks were printed in China and intended to propagandize the student with Maoist ideology. Does anyone use the word "laodong" any more?
Paul Cullen

May 08, 2014 at 11:28 pm

Im currently studying Chinese at International House Xian ! if anyone from Darthmouth is back in Xian let me know I can show you the hidden secrets :) http://ihxian.com/
Disclaimer: We welcome your responses and suggestions. Please be courteous, use respectful language, and support constructive debate. To keep the experience a positive one for all of our users, we reserve the right to make editorial decisions regarding submitted comment.