Special Events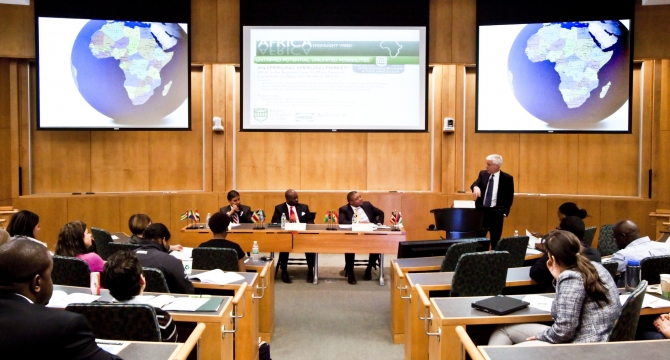 One of the hallmarks of the Tuck experience is the learning that takes place outside the classroom at events and programs that reflect the diverse interests of the Tuck community.
Breakfast with Michael Morrell
In October 2014, the Center collaborated with the student Business and Politics Club to host an informal breakfast discussion with Michael Morrell, longtime Deputy Director of the CIA.
Keurig Panel Discussion
On September 24, 2014, three key players in the launch of Keurig visited Tuck for a discussion titled "From Idea, to Start Up, to Corporate Success: the Story of Keurig." Panel participants included Peter Dragone, co-founder and former president; Dick Sweeney, co-founder and current VP of contract manufacturing & quality assurance; and Larry Kernan, angel investor, former chairman. The talk was moderated by John Lynch, senior fellow at Tuck's Center for Global Business and Government and former governor of New Hampshire. This event was co-hosted by the CGBG, the Center for Private Equity and Entrepreneurship, and the Entrepreneurship Initiative.
Money For Nothing documentary
In November 2013, the CGBG hosted a free screening for the Dartmouth community of the documentary Money For Nothing: Inside the Federal Reserve. The movie featured current and former senior Fed officials, prominent economists, investors, and traders who offered commentary on the future of the world's most powerful financial institution. The screening was followed by a panel discussion with: Jim Bruce, the writer, producer, and director of Money for Nothing; Kenneth R. French, the Roth Family Distinguished Professor of Finance at Tuck; Peter Fisher, who appears in Money for Nothing, senior fellow at Tuck's CGBG ; Matthew Slaughter, the faculty director at the CGBG
Executive-Student Meetings
During the fall term of 2013, the CGBG organized a luncheon for students with Stefan Halldorsson T'88, consultant and former CEO of Iceland's Engineers Pension Fund, and the CGBG worked in partnership with the Center for Private Equity and Entrepreneurship to host an impromptu talk by Michael Ward T'92, managing director, CFO, and COO, Bain Capital.
Business and Politics Club
In collaboration with the student Business and Politics Club, the CGBG sponsored several breakfast sessions during the 2013-2014 academic year that featured discussions on a variety of topics at the intersection of busines, government, and current events.
See our list of current upcoming events here.