Killingstad Global Insights Series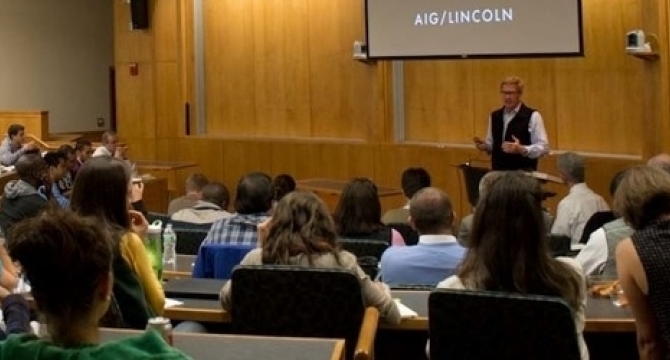 This series of on-campus talks, called the Killingstad Global Insights Series, features senior executives and global leaders interacting with the Tuck community on issues at the intersection of business and government. This program is made possible by a generous donation from Bernt Killingstad T'86, the Managing Director at Lincoln Property Company.
Read about Bernt Killingstad here.
Killingstad Global Insights Searies Speakers hosted during the 2014-2015 academic year:
February 18, 2015 - Julie Brill, Commissioner of the Federal Trade Commission - Title of talk: "Global Regulation of Data in a Post Snowden World"
February 10, 2015 - Nicholas Lardy, Anthony M. Solomon Senior Fellow at the Peterson Institute for International Economics - Title of talk: "Markets over Mao: The Rise of Private Business in China"
January 15, 2015 - David McCullough, American Author and Historian - Title of talk: "Lessons of Leadership from the First to Fly"
October 30, 2014 - Harvey Golub, Former Chief Executive Officer of American Express - Title of talk: "Principles-Based Leadership"
October 8, 2014 - Kenneth R. Feinberg, Founder and Managing Partner, Feinberg Rozen - Title of talk: "What is fair? How today's businesses compensate victims after tragedies"
October 2, 2014 - Evan Bayh, Birch Evans "Evan" Bayh III is a lawyer who served as U.S. Senator (D-Indiana) from 1999 to 2011. He earlier served as the 46th Governor of Indiana from 1989 to 1997. - Title of talk: "Back to Business: Sustaining American Prosperity through Bipartisanship"
Killingstad Global Insights Searies Speakers hosted during the 2013-2014 academic year were:
Sep 30, 2013 -- Bernt Killingstad T'86, Managing Director, Lincoln Property Company - Title of talk: Thriving in Eastern Europe's Emerging Markets - Corruption, Ambiguity, and Opportunity
Oct. 22, 2013 -- David Leuschen D'73, T'77, Founder and Senior Managing Director of Riverstone Holdings, a private equity firm focusing on growth capital investments in the energy and power sectors - Title of talk: The Energy Revolution in the U.S. (co-hosted with the Revers Energy Institute)
Feb. 10, 2014 -- Iqbal Quadir, founder and director of the Legatum Center at MIT and Professor of the Practice of Development and Entrepreneurship - Title of talk: Millions of Teachers: Entrepreneurs learning from customers in low-income countries (co-hosted with the Center for Business and Society and the Center for Private Equity and Entrepreneurship)
Feb. 27, 2014 -- Richard McGregor, Washington Bureau Chief of the Financial Times - Title of talk: How the Communist Party Rules China
Feb 20, 2014 -- Mara Rudman D'84, Quorum Strategies, an international strategic consulting firm, and recently served as Assistant Administrator for the Middle East at the U.S. Agency for International Development (USAID) - Title of talk: Doing Well, Doing Good, Doing It Right: Can it happen in the Middle East today?
Feb. 24, 2014 -- Gary Gensler, 11th chairman, U.S. Commodity Futures Trading Commission 2009-2014 - Title of talk: Leading at the Intersection of Business and Government
April 29, 2014 -- Thomas Lawton, visiting professor at the Tuck School of Business and a co-author of the new book Aligning for Advantage (2014 Oxford University Press) - Title of the talk: Why Your Company Needs a Chief External Officer
May 8, 2014 -- Vijay Govindarajan, the Coxe Distinguished Professor at the Tuck School - Title of the talk: Leveraging India: Lessons in Global Leadership (co-hosted by the student South Asia Business Club, the Tuck Healthcare Initiative, and the Tuck Center for Business and Society)
May 13, 2014 -- Masaaki Shirakawa, Japanese economist, central banker, and the 30th Governor of the Bank of Japan (BOJ), and professor of Aoyama Gakuin University - Title of the talk: The Japanese Economy in the Past Two Decades: The Myths, the Realities, and the Challenges