C-Level Briefings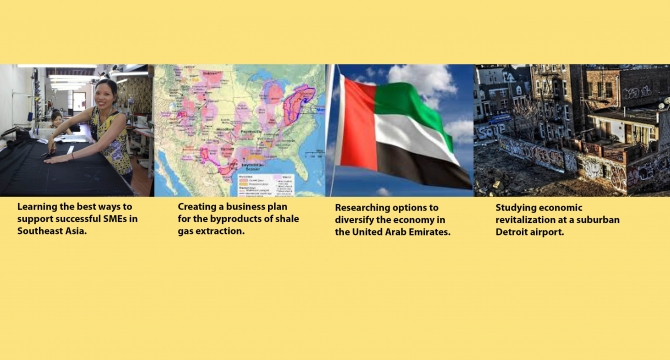 About the C-Level Briefings (launched Fall 2013)
Tuck C-Level Briefings are research and analysis projects where small teams of Center for Global Business and Government MBA Fellows work with global executives and government leaders on projects that bridge the gap of understanding between business and government policy. The Tuck C-Level Briefings will contain content coming from leaders and intended for leaders, facilitated by the Tuck CGBG.
Execution and Dissemination
Briefing projects will be selected based on the combination of compelling interest, executive engagement, government engagement, and impact assessment. MBA Fellows will work with CGBG staff members and partner executives or policy makers to determine needs and desired outcomes. The final briefing, ideally, is made in person by the MBA Fellows to the business or government leaders involved (video conference is also an option). The C-Level Briefings, if allowed by the partner company or agency, will also be made public.
Projects for 2013-2014
Vantageport -- Detroit is struggling to rebuild after bankruptcy. VantagePort is a regional public/private partnership focused on driving expansion and new investment in and around Wayne County's Detroit Metro and Willow Run Airport system. The project involved an intensive look at what makes a business incubator succeed. (Our partner was Tim Keyes, the CEO of VantagePort.)
World Bank -- This project covered the topic of government action and impact on small and medium enterprises (SMEs) in Vietnam and Malaysia. The students worked to understand the universe of government instruments intended to help SMEs and study their success and failure lessons. (Our partner was Pranav Kumar, finance and private sector development specialist with The World Bank and the International Finance Corporation, Singapore.)
Shale Gas -- The boom in America's energy sector is in full swing. The Energy Information Administration projects that America's natural gas output will reach a record high this year – for the sixth year in a row. This project explored whether newly abundant "wet gas" can be profitably transported and used in certain manufacturing operations in the United States or the United Kingdom. (Our partner was Dan Revers T'89, the managing partner at ArcLight Capital Partners.)
UAE -- Currently, UAE nationals comprise only 20-25 percent of the population and even less of the labor market, and work is underway to examine economic diversification outside of the oil sector and educate a local work force that has the skills to drive the economy forward. The project identified businesses in the UAE – outside of the energy and construction sectors – that have been most successful in creating new employment to see what they have in common. (Peter Fisher, a CGBG Senior Fellow, oversaw this project.)
For more information, send us an email.