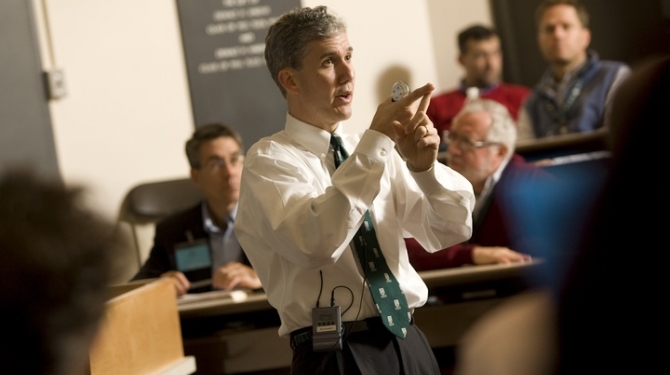 The Center for Global Business and Government at Tuck, established in July 2012, is dedicated to programs and activities that prepare business leaders to better understand, shape, and succeed in the dynamic interactions between business and government in the global economy. We do this through:
Outreach... by organizing events and programs for senior officials in business and government, and by distributing a suite of materials that promote Tuck's distinct voice in this field.
MBA Enrichment... by organizing on-campus and travel programs that address current global business and economic trends, and providing individual advising for students on globalizing their MBA experience.
Research... by hosting visiting scholars, organizing seminars, and developing research resources and publications.
Prior to July 2012, we were the Center for International Business, primarily focused on supporting the MBA experience at Tuck through hosting guest speakers, coordinating special events, and organizing international travel programs that promoted a global business mindset. You might see references to our old name on this website and on the Tuck website.
BACKGROUND
Business continues to become global in ways and at a pace that defies forecasts. Many forces account for this. Political barriers to globalization continue to decline at the multilateral, national, and industry levels. Perhaps most dramatic has been the integration into the global economy of billions of people in countries that over much of the 20th century operated a command-and-control structure with virtually no market forces. Technological barriers to globalization continue to decline as well. Connectivity facilitated by information technology has driven marginal transmission costs of voice and data to near zero, an innovation that has vastly expanded the scope of what goods and, especially, services are tradable.
Companies today enjoy ever-wider opportunities to be globally engaged through revenue growth, through efficiency gains, and most fundamentally through mindset. Global business is not, however, omnipotent. Even as market forces have spread so, too, has the role of national governments. National governments that once stood between the market and billions of their citizens still today play deep and shifting roles in the global economy via institutions such as monetary and fiscal authorities, state-owned enterprises, and sovereign wealth funds. National governments being embedded in global business should not be feared. This complex dialectic has been a reality for centuries and will be a reality for the foreseeable future.
The world financial crisis sharply expanded the role of national governments in global business. This expansion has been both direct (e.g., nationalizing banks and other icons such as General Motors) and indirect (e.g., borrowing and printing trillions by central banks and fiscal agents). Global businesses today encounter national governments as customers, as competitors, and as regulators across all key strategic dimensions. And the leaders of global businesses and national governments struggle to understand each other's goals, constraints, and methods.
Global companies need leaders who can overcome struggles with globalization; those based in advanced countries, for example, need new strategies to succeed in BRIC countries and beyond. National governments need leaders who can help create jobs and incomes at home linked to dynamic opportunities abroad. And hybrid business-government institutions, such as stateowned enterprises, need leaders whose visions appeal to many diverse stakeholders. Much of today's anxiety—visible in Occupy Wall Street and in protests sweeping capitals in Africa, Europe, and beyond—stems from worry that current leaders are not up to these challenges.
Through a linked set of outreach, MBA Program enrichment, and research activities, this new center will prepare students to become leaders in their decades beyond Tuck in both global businesses and in national governments as well.